TPO – On February 8, Ho Chi Minh City Electricity Corporation (EVNHCMC) announced the results of the assessment of the smart grid of power companies in the world in 2022 by Singapore Energy Corporation (SP Group) performance.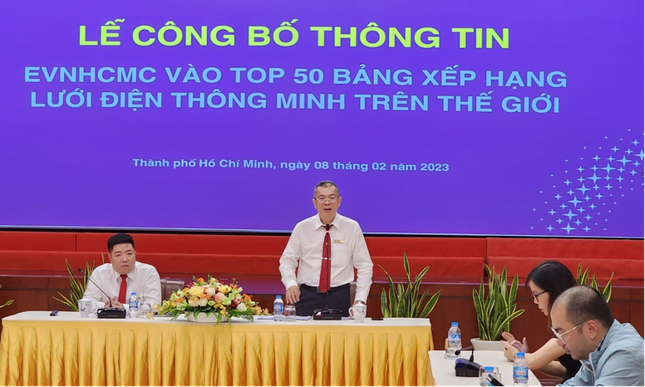 EVNHCMC announced the results of smart grid assessment of power companies in the world in 2022.
Specifically, EVNHCMC has achieved 71.4 points, ranked 47th out of 94 power companies in the world, up 6 places compared to 2021.
With the above position, EVNHCMC continues to rank 2nd in ASEAN, behind Singapore Electricity (75 points, 42/94), equal to TNB Power Company (Malaysia – 71.4 points, ranked first). 48), ahead of power companies MEA, PEA (Thailand), Meralco (Philippines), PLN (Indonesia).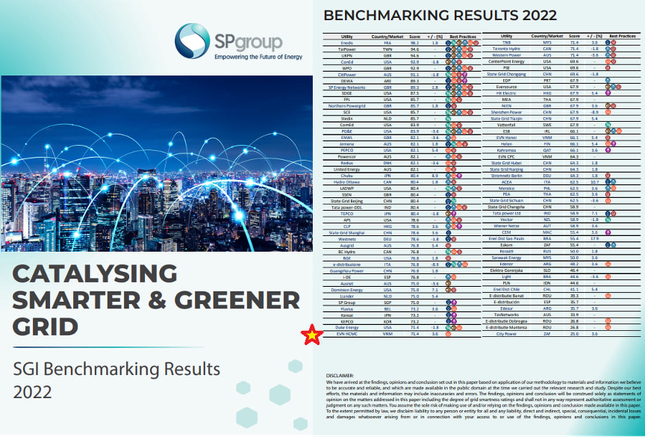 EVNHCMC (asterisk) ranked 47th in the ranking of smart grid of power companies in the world in 2022.
Mr. Nguyen Van Thanh – General Director of EVNHCMC said that EVNHCMC participated in the assessment of smart grid since 2019 with rather modest results: only 33.9 points and ranked 70/75 power companies in other countries. . Since then, thanks to the right and effective implementation according to international standards, EVNHCMC has continuously improved its scores and rankings: in 2020, reaching 51.8 points, ranking 70/85; in 2021 reached 67.9, ranked 53/86 and in 2022 reached 71.4 points, ranked 47 out of 94 power companies with smart grids in the world.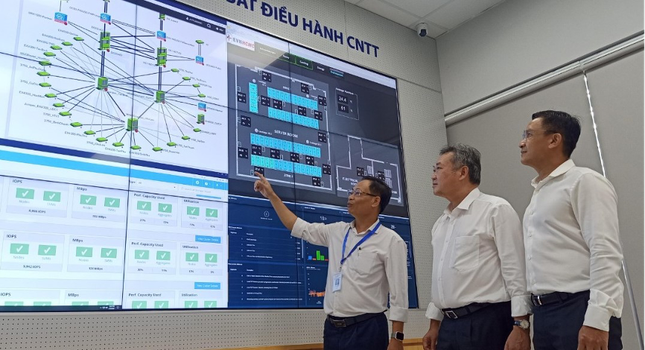 Leaders of EVNHCMC inspect the IT operating system of the unit.
With this result, EVNHCMC has completed 3 years earlier than the target of Top 50 in the smart grid development roadmap for HCMC in the 2021-2025 period.
Mr. Thanh said that the development of smart grid is one of the inevitable and important trends in the electricity sector, it brings a lot of benefits to the electricity industry as well as to customers. improve the reliability of power supply (safety, stability, continuity), customer service quality is getting better and better (providing customers with more information, improving customer service quality, ensuring information security of customers, etc.), while promoting economical and efficient use of electricity as well as promoting the development of green and clean energy.
Along with the general trend of the world, inheriting and continuing the innovative spirit of Ho Chi Minh City, EVNHCMC has always been a pioneer in the electricity industry in industrialization, modernization, and application of science and technology such as transformation. digital transformation, application of new technologies in the operation, maintenance and maintenance of the power grid in an advanced direction, repairing electricity without cutting power… and especially building a smart grid system. All pilot programs, construction roadmaps and smart grid development projects are self-implemented by EVNHCMC's internal resources, gradually mastering the technology and developing in accordance with the current status of the power grid in Ho Chi Minh City.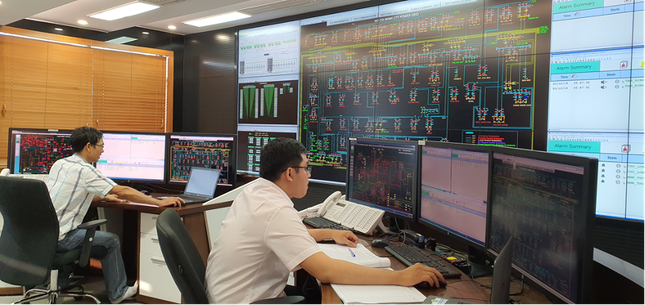 Monitoring and controlling the automatic power system of EVNHCMC is the factor most appreciated by SP Group.
Through more than 10 years of research, construction and implementation, up to now, EVNHCMC has developed a Smart Grid system in Ho Chi Minh City with full components in accordance with international standards including: (1) Monitoring and control; (2) Data analysis; (3) Reliability of power supply; (4) Distributed source integration; (5) Green energy; (6) Security and privacy; (7) Customer Empowerment and Customer Satisfaction.
Mr. Thanh also said that in the coming time, EVNHCMC will continue to develop smart grids for the period of 2021 – 2025, with a vision to 2030 with the orientation of in-depth development, focusing on the important work of Green and clean energy, promoting digital transformation helps the city quickly achieve the goal of optimizing emissions and EVNHCMC becomes a digital enterprise.
Source: Tien Phong