The Australian business delegation will have a series of activities, working in Hanoi and Ho Chi Minh City from March 28-30 to promote cooperation on renewable energy.
Within the framework of energy cooperation between Australia and Vietnam, the Australian Government Trade and Investment Agency (Austrade) cooperates with the Electricity & Renewable Energy Department – Ministry of Industry and Trade of Vietnam and Electricity of Vietnam (EVN). EVN) organized the Energy Transformation Forum 2023 in Hanoi on March 28.
The forum will discuss the current situation and challenges in the energy transition of Vietnam and Australia towards the goal of net zero emissions by 2050, and introduce new energy technologies and solutions. from Australia for this transition.
In addition, other issues will also be mentioned such as grid operation in the context of rapidly increasing integration of renewable energy; opportunity to apply energy storage solutions; solutions to optimize smart grid operation, virtual power plant solutions, energy efficiency and enterprise digitization applications in energy transformation; green certification system, carbon reduction technology…
Like Vietnam, the Australian government has made a commitment to environmental protection with the goal of reducing greenhouse gas emissions by 43 percent by 2030 and zero by 2050. Along with that strong commitment, the energy sector Australia's renewable investment has doubled in the past decade.
According to information from the Australian Department of Climate Change, Energy, Environment and Water's website, the past 10 years have seen a dramatic energy transition from coal to renewable energy. Specifically, small-scale solar energy production has an average growth rate of 28% per year, wind power production increases by 15%.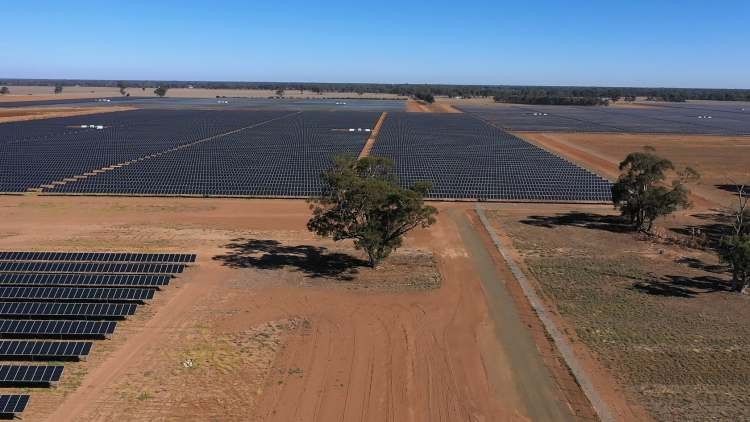 The $198 million Numurkah Solar Farm in northern Victoria has a 128MW capacity spread across 515 hectares and powers Melbourne's tram network.
The $198 million Numurkah Solar Farm in northern Victoria has a 128MW capacity spread across 515 hectares and powers Melbourne's tram network.
Recently, large-scale solar farms in Australia have begun to expand rapidly. Large-scale solar production has grown from negligible levels before 2016 to 4% of Australia's total electricity production in 2021, representing a five-year growth rate of 1,747 percent.
Renewable energy production reached a record high share of Australia's total electricity generation capacity in the last three months of 2022, providing an average of more than 40% of the electricity in the nation's main grid, an old record set by the World Bank. set for the same period in 2021 is 35.8%.
Meanwhile, Vietnam is experiencing remarkable economic growth and is rising to become one of the fastest growing energy markets in Asia. In response to this economic development, Vietnam's energy demand is expected to increase by nearly 8%-10% per year, leading to the need for a reliable energy supply. And so, Vietnam's renewable energy market is increasingly attractive to foreign investors.
About Australian energy businesses coming to Vietnam:
ARDEXA: Founded in 2013, Ardexa provides a digital control platform, a cloud-integrated solution for managing a large number of machines in various industries. Data collection, normalization, data sharing, factory control and remote working tools are the core components of this solution.
ENTURA: Entura is an energy and water consulting firm with over 100 years of experience that has contributed to the development, operation and maintenance of water and renewable energy infrastructure.
GENTRACK: Gentrack provides innovative clean technology solutions to service providers worldwide. The company is a global technology leader in providing metered billing solutions to the world's leading water and energy companies.
MAGELLAN POWER: Operating since 1991, Magellan Power is an Australian manufacturer of industrial grade backup power systems including AC and DC UPS, Energy Storage Systems and Battery Monitoring Systems.
POWERLEDGER: A technology and software company with the goal of making renewable energy systems more stable. Its products are divided into three main sections: energy trading and traceability, flexible trading and environmental commodity trading.
RECLAIM ENERGY: Supplier of CO2 heat pumps for the supply of hot water in commercial and household applications. The Reclaim Energy CO2 heat pump hot water system uses leading technology to convert heat from the energy of the surrounding environment.
ULTRA POWER SYSTEM: Ultra develops and licenses energy storage technology for commercial use. Ultra's first product suite based on Vanadium Redox (VRFB) technology, including a V40 6kw/40kwh battery module and a 12kw/80kwh stand-alone power station, integrated with 30kw solar power and 4kw wind turbines .
VILLAGE ENERGY: Helps integrate and manage home appliances, increases renewable energy on the grid, and provides consumers with control, transparency and cost savings. Village Energy's technology platform connects home energy equipment to electrical systems.